Mimosa pudica (Hilahila)
PLANT NAME: Mimosa pudica L.
COMMON NAMES: Hilahila ("shy") [Hawai'i]; sensitive plant, sleeping grass [English]; han xiu cao [China]; betguen sosa [Guam]; chami [Peru]; cogadrogadro [Fiji]; lajjalu [India]; lajwania [Indo-Fijiian]; mechiuaiu [Palau]; ra kau pikikaa [Cook Islands]; sulinit [Borneo]; tchua tchu zaw [Hmong – Laos].
NOMENCLATURE: From "mimos" to mimic. Because the leaves close up when touched they were thought to mimic a wilting leaf. Both "pudica" and "hilahila" mean "ashamed" or "bashful."
FAMILY: Fabaceae.
CATEGORY: Herbs that calm the spirit.
PROPERTIES: Sweet astringent, slightly cold.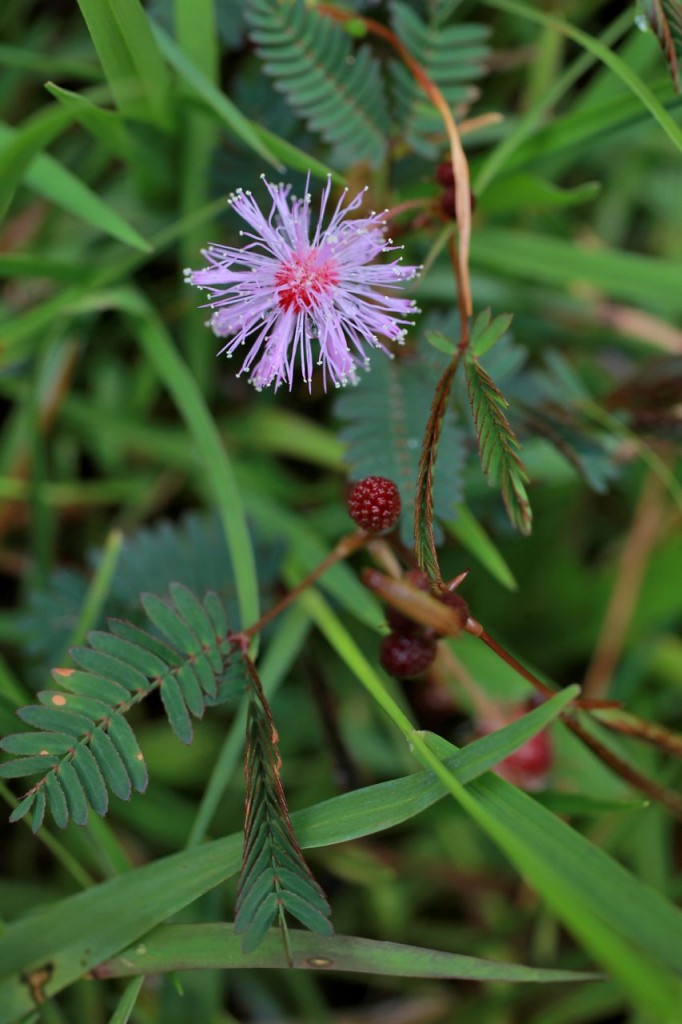 PLANT PART USED: Whole plant.
TOXICITY: There is some chronic toxicity. The dried plant is reportedly toxic to cattle.
CAUTIONS AND CONTRAINDICATIONS: Use only under professional supervision and not for extended periods of time. Not in pregnancy.
Mimosa pudica thorns can harbor the fungus Fonsecaea pedrosoi, a cause of chromoblastomycosis. Not that you would, but, don't walk barefoot on hilahila.
PREPARATION OF MEDICINE: Infused, decocted, mashed topical
DOSAGE: 10 – 15 grams in formula, up to 25 grams if used alone.
STATUS IN HAWAI'I: Alien. High pest factor. Get rid of it! The sharp thorns make short work of unprotected feet. Wear gloves when gathering.
WESTERN FUNCTIONS REPORTED: Anthelminthic; antibacterial; antibiotic; antihyperglycemic; anti-implantation; anti-inflammatory [China]; antimicrobial; anti-pyretic [China]; anti-spasmodic; antitussive [China]; antiviral; bactericide [Trinidad]; calmative [Panama]; contraceptive [India]; depilatory; diuretic [China]; emetic [Haiti, Panama, Southeast Asia, Venezuela]; expectorant [China]; poison; sedative [China, Guatemala, Java]; tonic [Costa Rica, Dominican Republic, Venezuela]; tranquilizing [China].
TRADITIONAL CHINESE ENERGETIC FUNCTIONS: Dispel pain and remove swelling [Taiwan].
Hilahila Common Medicinal Uses
Insomnia
Irritability
PMS
Hilahila Cross-Cultural Medicinal Uses
BITES & STINGS
Insect bites [Indo-Fijiian].
COSMETIC
DIGESTIVE
Dysentery, bloody dysentery (leaves ground, internal) [Haiti, India, Indo-Fijiian]; diarrhea [India]; enteritis, gastritis [China].
Hemorrhoids [Fiji (leaves in combination), India, Indo-Fijiian].
ENDOCRINE
Diabetes (whole plant) [India].
HEAD AND THROAT
Acute conjunctivitis [China].
Headache [Borneo (root), Panama].
Hoarseness [Haiti]; throat diseases (seeds) [Southeast Asia]; sore throat [Brazil (decoction gargled)].
Sinus problems.
Toothache [India (root fried in ghee, topical)].
INFECTION
Fever [Borneo (root), Cuba (root decocted), India, Indo-Fijiian].
LYMPH
Enlarged lymph glands; scrofula [Brazil (leaves)]
MUSCULOSKELETAL / TRAUMA
Rheumatism [Brazil (root decocted); rheumatoid arthritis India (root decocted)].
Skin wounds [India]; swelling [Brazil (root decocted), Java]; trauma (mashed topical).
Gout [Nepal (poultice)]
NEUROLOGICAL
ONCOLOGY
Tumors; glandular tumors [South American Blacks]
PARASITES
Stomach worms [Indo-Fijiian].
PEDIATRIC
High fever in children [China].
Whooping cough (leaves fried, internal with honey) [India].
PSYCHOSPIRITUAL
In the Afro-Brazillian religion Candomblé, Mimosa pudica is associated with the god Exu.
Hysteria (root tied around the neck to remove evil spirits) [India]; insomnia [China, Indo-Fijiian, Java (placed under pillow), Panama, Peru, Trinidad]; irritability, "neurasthenia" [China]; nervousness [Indo-Fijiian]; depression [Mexico (dried leaves infused)].
REPRODUCTIVE
To facilitate childbirth [Carribean]; labour pain [India].
Excess menstrual bleeding [India]; menstrual difficulties [South East Asia].
Venereal disease, syphilis [Indo-Fijian].
Aphrodesiac [Bolivia (seeds), Hawai'i (root infused in oil, topical).
Unwanted pregnancy [Cuba (root decocted)].
RESPIRATORY
Asthma [Costa Rica, Southeast Asia]; bronchitis, lung infections with fever [China]; cough [Borneo (root)]; pulmonary hemorrhage [Bolivia].
URINARY
Urinary inflammation [Nepal]; kidney inflammation [West Indes]; reduced or burning urination [Trinidad]; bladder infections [Fiji (leaves / roots in combination)].
Urinary stones [Cambodia, China].
VETERINARY
Eaten by elephants in the wild, apparently for digestive problems and possibly for gastrointestinal parasites.
OTHER MEDICINAL USES
CONSTITUENTS: Ascorbic-acid, crocetin, crocetin-dimethyl-ether, d-glucuronic-acid, d-panitol d-xylose, gentisic acid, jasmonic acid, linoleic-acid, linolenic-acid, mimosine, mucilage, norepinephrine, oleic-acid, palmitic-acid, sitosterol, stearic-acid.
Hilahila Local Combinations
Urinary stones: Add Kyllinga spp. (kili'o'opu) and Commelina spp. (honohono).
Agitation: Add Vernonia cinerea (yi chi xiang), Oxalis spp. ('ihi), Verbena littoralis (ha'uoi), and Pipturus albidus (mämaki).
Insomnia: Add Piper methysticum ('awa).
CROSS-CULTURAL COMBINATIONS
Snakebite: Root internal with three leaves of Azadirachta indica.
Diabetes: Whole plant with rice [India].
Temporary birth control: Roots with Piper nigrum (bi ba / black pepper), Cissampelos pareira, and Hibiscus rosa-sinensis (aloalo) [India].
Permanent sterilazation: With Bambusa rundinacea, Heliotropium indicum, Hibiscus rosa-sinensis, Plumbago zeylanica, Plumeria rubra, and Salmalia malabrica.
Wheezing: Leaf shoots with Panicum maximum. [Dominica]
Poisons, curses, and to facilitate childbirth: With Cassia bicapsularis and Petiveria spp. [Dominica]
RANGE: Throughout the Pacific, India, Indonesia, Southeast Asia, China, North and South America. Probably native to South America.
HABITAT: Full sun, well-drained soil, disturbed areas, and lawns. Anywhere people walk barefoot.
GATHERING: Gloves, summer and autumn.
PROPAGATION & CULTIVATION: From seed or cuttings. (Don't propagate in Hawai'i!) Does not like over watering or root disturbance.
RESEARCH
Water extract reduces myotoxicity of Naja kaouthia (cobra) venom [Mahanta 2001].
Anticonvulsant in lab animals [Ngo Bum 2004]
May stimulate nerve regeneration in lab animals [Prasad 1975].
Ethanol extract lowers blood sugar in mice. [Amalraj 2002]
Showed no significant reduction of urinary stones in rats [Joyamma 1990].
scabrella and M. tenuiflora contain tryptamines in the roots. It is unclear if M. pudica does.
NOTES 'N QUOTES
Nitrogen fixer.
This beautiful and aggravating garden pest seems to find its way into most Hawaiian yards at one time or another. Its most interesting characteristic is the way the leaves fold shut when touched.
"The proprietor of a bar in our town keeps a sensitive plant (Mimosa pudica) on his premises. When this plant is touched, the leaves fold and the stems droop. Recovery is prompt, and the action can be repeated endlessly without harm to the plant. When the bartender feels a customer has had too much to drink, he gives him an "alcohol-sensitive test" by having him touch the plant. He warns that if the plant wilts when it is touched, the drinker should not drive. The inebriated patron is usually so startled by the plant's action that he willingly calls a cab." – – Mary Shier, President, Anchorage Chapter Alaska Master Gardener.
REFERENCES
Joyamma V, et al. 1990. Biochemical mechanisms and effects of Mimosa pudica (Linn) on experimental urolithiasis in rats. Indian J Exp Biol Mar 28:3 237-40
Li Ninghan, et al. 1976. Chinese Medicinal Herbs of Hong Kong. Volumes 1-5. Hong Kong: Hong Kong Commercial Press, Ltd. (Shang Wu Yin Shu Guan, Xiang Gang You Xian Gong Si)
Li Ninghan, et al. 1994. Chinese Medicinal Herbs of Hong Kong. Volume 6. Hong Kong: Hong Kong Commercial Press, Ltd. (Shang Wu Yin Shu Guan, Xiang Gang You Xian Gong Si)
Mahanta M, et al. 2001 Neutralisation of lethality, myotoxicity and toxic enzymes of Naja kaouthia venom by Mimosa pudica root extracts. J Ethnopharmacol Apr;75(1):55-60
Prasad GC, Khanna RP, et al. 1975. Effect of Lajjawanti (Mimosa Pudica) on Regeneration of Nerve. Jur. Res. Ind. Med.10: 4, pp.37-44.
World Health Organization. 1998. Medicinal Plants in the Pacific. WHO Regional Publications. Western Pacific Series No. 19.
ONLINE REFERENCES
http://BoDD.cf.ac.uk/BotDermFolder/BotDermL/LEGU.html
http://perso.infonie.fr/a.bohbot.infoni/english/LJ/ayurveda.htm
http://www.bio.miami.edu/Mimosa/Mimosa.html
http://www.borneofocus.com/vaic/R&D/article42.htm
http://www.corecom.net/~gardener/NewsLetter/June01/June01.html
http://www.drdeorio.com/ayruvedic.html
http://www.goinggreen.net/alternative/azherbs.htm
http://www.healingtherapies.info/ayurveda.htm
http://www.herbalmedicinebag.com/Salvia-Divinorum.htm
http://www.herb-man.com/catalog/hmongmedicine.html
http://www.mamiwata.com/hoodoo.html
http://www.mssrf.org/fris9809/fris1151.html
http://www.ncbi.nlm.nih.gov:80/entrez/query.fcgi?CMD∆Display&DB∆PubMed
http://www.niam.com/corp-web/mediplnt.htm
http://www.parentspitara.com/health/alternate/4.htm
http://www.rain-tree.com/mimosa.htm
http://www.sertek.com.tw/temp/bmtcg/english/knowlodge/production.htm
http://www.tscwa.org/Elephants.html
http://www.users.globalnet.co.uk/~ehpa/core8A.htm
http://www.vedamsbooks.com/no12297.htm
http://www.winternet.com/~chuckg/dictionary/dictionary.159.html
http://www3.sk.sympatico.ca/becqr/14.htm