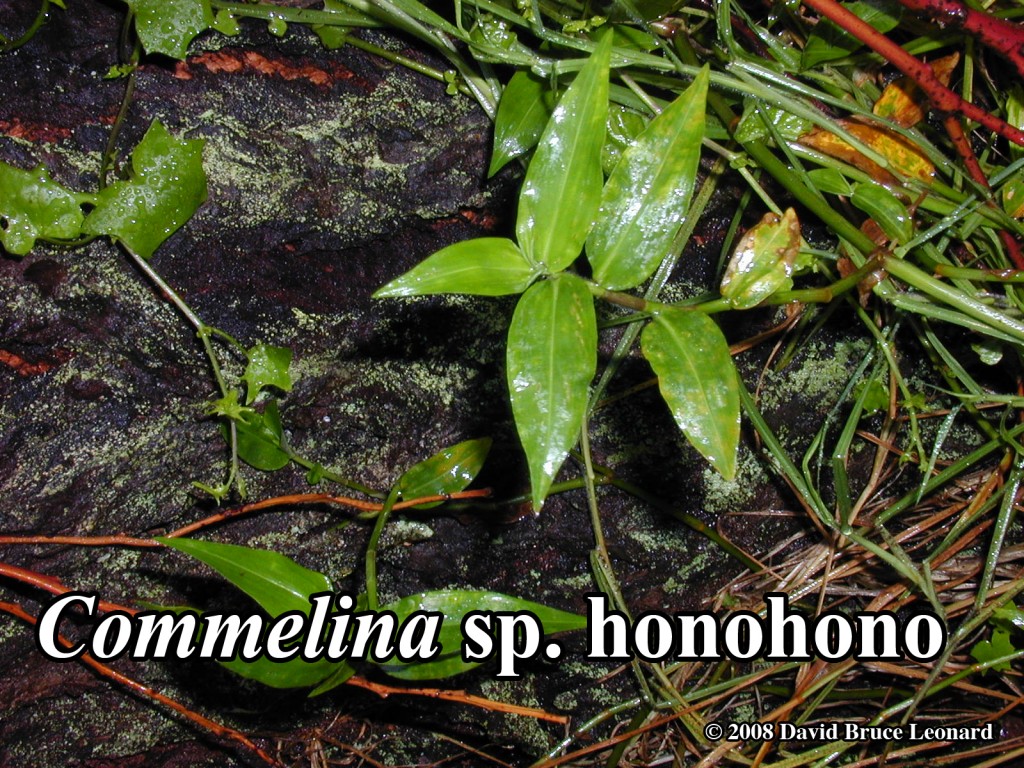 Commelina diffusa (Honohono)
PLANT NAME: Commelina diffusa N. L. Burm.
SIMILARLY USED SPECIES: C. diffusa, C. communis, C. africana, C. angustifolia, C. bengalensis, C. benghalensis, C. cayennensis, C. coelestis, C. elegans, C. erecta, C. forsskalei, C. nudiflora L., C. nudiflora, C. obliqua, C. polygama, C. rumphii, C. salicifolia, C. suffruticosa, C. virginica, Aneilema nudiflora
COMMON NAMES: Honohono, mäkolokolo [Hawai'i]; wandering jew, day flower [USA]; ya zhi cao [China]; ban kane [Nepal] mau'utoga [Samoa]; french weed [West Indies]; watergrass [Trinidad]; zeb gwa [Dominica]; curage [Guadaloupe]; codillo (Spanish); tsuyu kusa (dewy herb) [Japan]; kabocola [Fiji].
NOMENCLATURE: The plant is named after three Dutch botanists named Commelijn. One petal of the flower was said to be for Jan Commelijn (1629-1692), another for his nephew Caspar Commelijn (1667-1731), and the third petal was for one of their relatives who died before achieving fame. That's why we don't know his name.
FAMILY: Commelinaceae.
CATEGORY: Herbs that clear heat and fire.
PROPERTIES: Sweet, bitter, cool.
PLANT PART USED: All of it.
TOXICITY: There is one reference to Commelina forsskalei as being toxic, [http: / / www.ars-grin.gov / cgi-bin / duke / ethnobot.pl] but other than that I could no other evidence for any toxicity within this genus. As far as I know C. forsskalei does not grow in Hawai'i.
CAUTIONS AND CONTRAINDICATIONS: Not in pregnancy.
PREPARATION OF MEDICINE: Infused, decocted, juiced, steamed.
DOSAGE: 1-2 oz. of fresh herb in decoction; or crushed for topical use.
STATUS IN HAWAI'I: Alien. High pest factor.
MERIDIAN AFFINITIES: Bladder, liver, lung, and stomach.
WESTERN FUNCTIONS REPORTED: Abortifacient (C. diffusa; C. coelestis); anti-inflammatory; anti-swelling; antibacterial; antibiotic; antipyretic; antitussive; astringent; bactericidal; demulcent [China]; depurative [Hawaii, Japan, Trinidad]; detoxifying; diuretic [China, Fiji, Haiti]; emennagogue [India]; emetic (C. nudiflora) [Samoa]; emmoliant; expectorant; febrifuge; hemostat; laxative [Samoa]; lenitive [China]; refrigerant; styptic [Hawaiʻi]; tonic [Egypt].
TRADITIONAL CHINESE ENERGETIC FUNCTIONS (~ = extrapolated):
1) Cools the blood and stops bleeding.
2) Clears heat, quells fire.
3) Expels wind dampness, reduces swelling and inflammation.
4) Clears the lungs and opens the chest.
5) Clears lower burner damp heat.
Honohono Common Medicinal Uses
Urinary tract infections as a tea infused or short decoction
Cough with sticky phlegm as a tea infused or short decoction
Irritated eyes sap topical
Stop bleeding sap topical
To moisten a poultice
Honohono Cross Cultural Medicinal Uses
COSMETIC
Red inflamed eyes [Hawai'i (sap topical)].
CARDIOVASCULAR
Bleeding [China, Mexico]; heart problems [Japan, South Africa]; hypertension [China].
DERMATOLOGICAL
Irritated tissue [Hawai'i (sap topical), Seminole]; itching; rash [Fiji]; dermatitis [Latin America];
Burns.
DIGESTIVE
Abdominal obstructions [China]; diarrhea (decocted) [China, Japan]; diarrhea [China]; enteritis [China (acute), Latin America]; hemorrhoids (topical and internal) [China, Mexico]; stomach problems [Egypt]; aid to digestion [Fiji].
HEAD AND THROAT
Conjunctivitis; eye problems (juice topical) [China, Egypt, Fiji, Hawai'i, Latin America, Zanzibar]; ophthalmia [Africa, China]; juice of stem used to remove dirt and grit from the eyes [Hawai'i].
Headache.
Laryngitis [China]; sore throats, acute tonsillitis, pharyngitis (gargled juice or decoction) [China].
Otitis media [China, India].
Nosebleed.
In Hawai'i the stem sap is used to remove dirt from the eye, and to soothe inflamed eyes. I have used it numerous times for my own eye problems includinga turpentine splash in the eye.
HEPATIC
INFECTION
Abscess, boils (topical & internal) [China, India, Malaya, Trinidad]; fever (decocted) [China, Haiti, Trinidad]; leprosy [Nepal]; malaria [China, South America]; to prevent infection [China].
MUSCULOSKELETAL / TRAUMA
Insect and snake bites (topical) [China, India].
Juice dripped into cuts to stop bleeding [Fiji, Hawai'i, Samoa].
Rheumatoid arthritis (acute) [China];
Swelling [Ghana, Japan]; spasms [Haiti].
Broken bones [Fiji].
Cramps.
ONCOLOGY
Tumor [Indochina, Mexico].
PARASITES
Malaria [China, Latin America].
PEDIATRIC
PSYCHOSPIRITUAL
"The evil eye" [Bolivia].
Nervous conditions [Dominican Republic, Haiti, South Africa].
REPRODUCTIVE
Inflammed uterus; painful menses [India. Latin America]; abnormal uterine bleeding [Mexico].
Vaginal discharge [Latin America].
Infertility [Paraguay, South Africa (C. benghalensis)].
Gonorrhea [China, Latin America]; groin "problems" [Egypt, Ghana].
Post partum discomfort [Mexico].
RESPIRATORY
Common cold, cough, influenza [Carribean, China, Trinidad].
Coughing up blood [Carribean, China, mexico]; tuberculosis (infused) [Acoma, Laguna, Mexico].
Specific for cough with sticky phlegm.
URINARY
Bladder infection [China, Trinidad], painful or difficult urination [China].
Edema [China]; kidney ailments [Latin America].
A punahele (favorite) for cystitis with painful urination.
VETERINARY
Food for livestock [Carribean, Hawai'i, India]; infusion used as aphrodesiac for livestock (C. dianthifolia) [Navaho].
OTHER MEDICINAL USES
Snakebite, bug bites [China].
Weight loss from chronic disease.
Hansen's disease (leprosy).
Lymph swelling.
USE AS FOOD: Use the tips fresh in salads or as a vegetable (cooked 10 minutes) [Universal]; famine food; pot herb eaten in spring [China].
OTHER USES: Blue flower as a dye.
Honohono Local Combinations
Painful urination or dry cough: With Hibiscus tiliaceus (hau) inner bark or flowers.
CROSS-CULTURAL COMBINATIONS:
For respiratory infection decocted with Taraxacum spp. (dandelion) and Morus alba (mulberry) [China].
HABITAT: Likes it wet n' shady, up to 3600′
GATHERING: Anytime.
PROPAGATION & CULTIVATION: Don't.
RESEARCH: Antitussive [Tang 1994].
NOTES 'N QUOTES
There are 170 species of Commelina.
The Japanese reportedly use Commelina flowers for making a kind of paper called Awobana.
A favorite for moistening poultices. (Vodka will also work)
Honohono (Commelina spp.) is a good example of the Hawaiian herbal description of "puhi" (literally "eel"), which means "slippery." A great remedy where mucous membranes are inflamed or there is eye irritation. Works on that dry hacking cough.
REFERENCES
Bista, M. S., director. 1997. Medicinal Plants of Nepal. 5th ed. Kathmandu: His Majesty's Government, Ministry of Forests and Soil Conservation, Department of Natural Resources.
Bista, M. S., director. 1997. Medicinal Plants of Nepal. (Supplement Volume). 2nd ed. Kathmandu: His Majesty's Government, Ministry of Forests and Soil Conservation, Department of Natural Resources.
Bliss, Beatrice. 1973. Chinese Medicinal Herbs (Li Zi-Shen's Ben Cao). San Francisco: Georgetown Press.
Duke, James. The author's correspondence with James Duke.
Foster, Steven, and James A. Duke. 2000. A Field Guide to Medicinal Plants and Herbs of Eastern and Central North America. 2nd ed. New York: Houghton Mifflin Company
Haselwood, E.L. and G. G. Motter, eds. 1983. Handbook of Hawaiian Weeds. 2nd ed. Honolulu: University of Hawai'i Press.
Honychurch, Penelope N. 1986. Caribbean Wild Plants & their Uses. London: Macmillan Education Limited.
Huang, Bing Shan. 1993. Thousand Formulas and Thousand Herbs of Traditional Chinese Medicine. Volume One: Materia Medica. Harbin, People's Republic of China: Heilongjiang Education Press.
Li Ninghan, et al. 1976. Chinese Medicinal Herbs of Hong Kong. Volumes 1-5. Hong Kong: Hong Kong Commercial Press, Ltd. (Shang Wu Yin Shu Guan, Xiang Gang You Xian Gong Si)
Moerman, Daniel E. 1986. Medicinal Plants of Native America. Volumes 1 & 2. Ann Arbor, MI.: University of Michigan Museum of Anthropology.
Montagna, F. Joseph. P. D. R. People's Desk Reference. Volumes 1 & 2. Library of Congress #80-52954.
Naone, Lyons Kapi'ioho. Conversations with Lyons Kapi'ioho Naone.
Neal, Marie C. 1965. In Gardens of Hawai'i. Honolulu: Bishop Museum Press.
Peterson, Lee Allen with Roger Tory Peterson. 1999. A Field Guide to Edible Wild Plants: Eastern and central North America. Houghton Mifflin Co.
Tang X.Y., et al. 1994. Active constituents of Commelina communis L (Article in Chinese) Zhongguo Zhong Yao Za Zhi May; 19(5): 297-8.
Translation of A Barefoot Doctor's Manual. 1977. Philadelphia: Running Press.
Wagner, Warren L., et el. 1999. Manual of the Flowering Plants of Hawai'i. Volumes 1 & 2. Revised ed. Honolulu: University of Hawai'i Press.
Whistler, W. Arthur. 1996. Samoan Herbal Medicine. Honolulu: Isle Botanica.
World Health Organization. 1998. Medicinal Plants in the Pacific. WHO Regional Publications. Western Pacific Series No. 19.
ONLINE REFERENCES
http://2bnthewild.com/plants/H65.htm
http://ars-genome.cornell.edu:80/cgi-bin/WebAce/webace?db=mpnadb&class=Specific_use&object=Commelina%20dianthifolia%3a%20Navaho-Ramah%20Veterinary%20aid
http://www.africam.com/Articles/FieldGuide/FlowerGuide/YellowFlowers/yellowflowersindex.html
http://www.ars-grin.gov/cgi-bin/duke/ethnobot.pl
http://www.ars-grin.gov/duke/dictionary/tico/c.html
http://www.cgriffith.net/servlets/SearchBases
http://www.didgeridoo-australia.com/bushmedicine.htm
http://www.enwei.com.cn/english/enwei_home_doctor/product/single_herb/Ya%20zhi%20cao.htm
http://www.fau.edu/divdept/science/envsci/ethno-list.html
http://www.gse.buffalo.edu/FAS/Johnston/Sexlife_and_Folklore_of_D6B.htm
http://www.huis.hiroshima-u.ac.jp/~nomura/T/tsuyuku.html
http://www.ibiblio.org/pfaf/cgi-bin/arr_html?Commelina+communis
http://www.medscape.com
http://www.montana.com/manu/paper.html
http://www.mssrf.org/fris9809/planti23.html
http://www.ncbi.nlm.nih.gov:80/entrez/query.fcgi?CMD∆Text&DB∆PubMed
http://www.rrz.uni-hamburg.de/biologie/b_online/ibc99/dr-duke/s.html
http://www.umd.umich.edu/cgi-bin/herb/
http://www.vetwork.org.uk/pune12.htm