PLANT NAME:   Aloe vera
OTHER NAMES OR SIMILARLY USED SPECIES:

A. ferox, A. barbadensis, A. vulgaris, A. perfoliata, A. capensis, A. perryi, A. bainesii, A. saponaria
COMMON NAMES:

Aloi, pänini 'awa'awa [Hawai'i]; aloe [English]; lu hui, nu hui, no hui, xiang dan [China]; rokai [Japan]; rapahoe [Tahiti]; kumari, kattarvala [India]; ghui kumari [Nepal]; sink-am-bible [Creole].
FAMILY:

Liliaceae (Lily family).
CATEGORY:

Downward draining herbs – purgatives.

PROPERTIES: Bitter cold [China]; Leaves: bitter hot, moist. Gel: salty, cool, moist. Bitter, cool [India].
PLANT PART USED:

Different parts of Aloe have different effects on the body. The yellow sap that emerges from near the skin of a sliced Aloe plant is called " bitter aloes" (luhui). Energetically cold, it is dried, and used as an irritant laxative… a purgative. See Cautions and Contraindications. The Aloe gel from the center of the leaf is much milder. The gel is used internally to soothe the digestive tract and topically for burns.
MERIDIAN AFFINITIES:

Large intestine, stomach, liver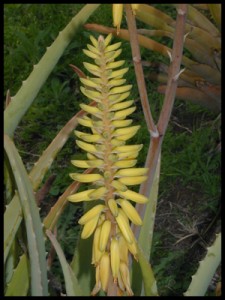 WESTERN FUNCTIONS REPORTED:

Abortifacient (A. barbadensis) [Trinidad]; alterative; analgesic; antiasthmatic; antibacterial; anticarcinogenic; antifertility; antifungal; antileukopenic; antipeptic ulcer; antipyretic; antiseptic (A. barbadensis) [Trinidad]; antithelmintic; antitumor; antiulceration; antiviral; aperient [Japan, Malaya]; aphrodisiac; bitter tonic; burn healing; cathartic (A. zebria) [China]; central nervous system depressant; decoagulant (A. barbadensis) [Trinidad]; demulcent (A. barbadensis) [Panama]; diuretic (A. barbadensis) [Haiti]; ecbolic (A. barbadensis) [Egypt]; embryotoxic; emmenagogue (A. barbadensis) [China, Egypt, India, Turkey]; emollient (A. barbadensis) [Haiti, Trinidad]; expels worms; hair stimulant; heals wounds; hypocholesterolemic; hypoglycemic; hypolipemic; insecticidal; larvicide (A. barbadensis) [Haiti]; laxative (A. barbadensis) [Africa, Bahamas, China, Panama]; liver sedative; liver stimulant; local anaesthetic; mitogenic; promotes bile fl ow; promotes menstruation; purgative [Egypt, Haiti, India, Lesotho, Nepal, Trinidad, Turkey]; Aloe vera ( Aloi) Aloe vera ( Aloi) Status: Alien. No pest factor. Habitat: In gardens 19 refrigerant; rejuvenative; removes stagnation; sedative; stimulant (A. barbadensis) [Haiti, Turkey]; stimulates appetite; stomachic [China, India, Spain]; stops bleeding; teratogenic; tonic (A. barbadensis) [Egypt]; uterine stimulant; vulnerary.
TRADITIONAL CHINESE ENERGETIC FUNCTIONS (

~ = extrapolated): 1) Clears heat and moves the bowels. 2) Drains heat and fire. 3) Clears liver heat and damp heat. 4) Cools the blood  5) Invigorates blood 6) Promotes the menses  7) Promotes healing and benefi ts the skin . 8. Benefits the digestion  9) Kills parasites.
OTHER ENERGETIC FUNCTIONS

: For pitta and kapha (The gel is a tonic for excess fire.). Will aggravate vatta in low doses [Ayurveda].
Common Medicinal Uses

• Burns • Constipation
POSSIBLE DRUG INTERACTIONS: •

Can cause potassium defi ciency when used with thiazide diuretics, licorice, and corticosteroids [Brinker 2001]. This can increase toxicity of digoxin [Brinker 2001; Chen 2004]. • Potentiates the hypoglycemic effects of glibenclamide, and (topically in mice) the anti-inflammatory effects of topical hydrocortisone [Okyar 2001]. • Can cause a strong odor when used for radiation burns [Leonard 2003].
TOXICITY: Chronic long-term toxicity.
CAUTIONS AND CONTRAINDICATIONS: Caution for internal long-term use • Not during pregnancy, menstruation, with hemorrhoids or liver / gall bladder degeneration. • Long-term use can lead to loss of electrolytes, especially potassium. Long-term use can (rarely) lead to hyperaldosteronism, heart arrhythmias, nephropathies, edemas, and accelerated bone deterioration, albuminuria and hematuria.
ENERGETIC CAUTIONS: • Not in rectal bleeding from cold deficiency. • Not with spleen qi defi ciency ~.
 NOTES 'N QUOTES
Greek physician Dioscorides wrote of Aloe for constipation, burns and kidney ailments. Pliny (Caius Plinius Secundus, A.D. 23-79) recommended rubbing the leaves on male genital ulcers [Greece]. • Mentioned in the New Testament as a purgative (John 19:39).
Napoleon's wife Josephine used a milk / aloe gel lotion for her skin. It was used by Cleopatra for the same reason, and also used in Egyptian embalming processes [Egypt].
Indigenous to the Sudan. Aloe ferox is indigenous to South Africa.