Painting by the remarkable Kit Gentry www.kitgentry.com
••••••••••••••••••••••••••••••••••••••••••••••••••••••••••••••••••••••••••••••••••••••••••••••
••••••••••••••••••••••••••••••••••••••••••••••••••••••••••••••••••••••••••••••••••••••••••••••
••••••••••••••••••••••••••••••••••••••••••••••••••••••••••••••••••••••••••••••••••••••••••••••
There are currently no Nature Skills Certifications scheduled for 2017 but we may put one together if there is a demand.

However, I will be available (and plan to)
Edible and Medicinal Plant Classes in Hawaiʻi on most Islands:

Organized Group Classes (up to 20 students) that you produce (market and register): My fees are $500 per day or $400 per day for contiguous days (plus travel costs)

Semi-Private Smaller Classes (1~6 students) that I produce: Student fees are $300 per day per student (plus travel costs)
Learn the Edible and Medicinal "Weeds" and Native Plants that grow all around us!
Over 100 Hawaiian plants
Medicine Making: Tinctures, Salves, Pills, Poultices, Infusions, Decoctions
Topical uses of Plants with Deep Tissue bodywork
Energetic Tongue and Pulse Diagnosis
Gathering Protocols
History of Chinese and Hawaiian Plant Medicines
Nature Skills

Bring your camera and your curiosity!
For more information or to register text (808) 937-4218 or email
••••••••••••••••••••••••••••••••••••••••••••••••••••••••••••••••••••••••••••••••••••••••••••••
Introduction

to Tropical Plant Medicine Apprenticeship on Maui


Level 1 & Level 2

Classes Forming Now
Classes are two hours per week plus one or two field trips per week by appointment.

Cost is a

Special Discounted Rate of $600 per level with a two month commitment required for each level (payment plants available)
Text 808-937-4218
Foundations of Tropical Herbalism: Level 1
• Introduction ~ Policies
• Plant Anatomy
• Nomenclature & Clinical Herbalism
• Dosages
• Plant Families
• Medical Terminology
• Ways to Ingest Plant Medicines
• Gathering Physiology
• Gathering Protocols
• Gathering Bundle
• Offering Platter
• Medicine Making Poultices, Oils & Salves, Pills, Tinctures, Infusions, Decoctions
• Topical Uses of Plants
• Hawaiian Natural History
• Hawaiian Cultural History
• Breath / Qigong
• Bodywork, Qi Release, Gua Sha, Seven Star Hammer
• Formula Design
• Food Medicine & Foraging Wild Edibles
• Toxicity
• Seeing the World with Your Tongue
• Spice Rack Herbs
Applications of Tropical Plant Medicines: Level 2

• Infections & Tropical Anti-Microbials
• Advanced Medicine Making
• Pathways of Inflammation
• Injury / First Aid Theory
• Tropical Plants and the Gut Microbiome
• Lungs, Sweat, Colds, Flu, Immunity
• Introduction to Daoism and Chinese medicine
• Introduction to Tongue & Pulse Diagnosis
• Advanced Wild Edibles
• PLUS An In-Depth & Detailed Look at 30 Plant Medicines & Their Uses:
Ageratum conyzoides (Maile Hohono)
Aleurites moluccana (Kukui / Candlenut)
Aloe spp. (Aloi)
Bidens spp. (Kīnehi / Spanish Needle)
Capsicum frutescens (Nīoi, Cayenne, Chili Pepper)
Cecropia obtusifolia (Trumpet Tree Snakewood Tree)
Centella asiatica (Gotu kola / Pohe kula)
Coix lachryma-jobi (Jobs tears / Pū ohe'ohe)
Commelina spp (Honohono / Day Flower)
Cordyline fruticosa (Ti / Lā'ī)
Curcuma longa (Turmeric / Ōlena / Jiang Huang)
Cymbopogon citratus (Lemongrass / Wāpine)
Desmodium spp. (Pua Pilipili)
Hibiscus rosa sinensis (Aloalo / Red hibiscus)
Hibiscus tiliaceus (Hau)
Mimosa pudica (Hilahila / Sensitive plant)
Morinda citrifolia (Noni / Hai ba ji)
Musa paradisica (Maiʻa / Banana)
Oxalis spp. (Sorrel)
Pandanus tectorius (Hala)
Persicaria capitata (Shi Mang Cao / Knot Weed)
Piper methysticum (Kava / 'Awa)
Pipturus spp. (Mamaki / Mamake)
Plantago spp. (Laukahi / Plantain)
Portulaca oleracea (Purslane / ʻAkulikuli)
Psidium guajava (Guava)
Ricinus communis (Castor / Koli)
Sida rhombifolia (Huang Hua Mu / Country Mallow)
Symphytum officinale (Comfrey, Boneset, Knitbone)
Trametes versicolor (Yun zhi / Turkey Tails)
Usnea spp ('Umi Koa / Old Man's Beard)
Waltheria indica ('Uhaloa / Buff Coat)
Zingiber officinale (Ginger / Awapuhi Pākē)
••••••••••••••••••••••••••••••••••••••••••••••••••••••••••••••••••••••••••••••••••••••••••••••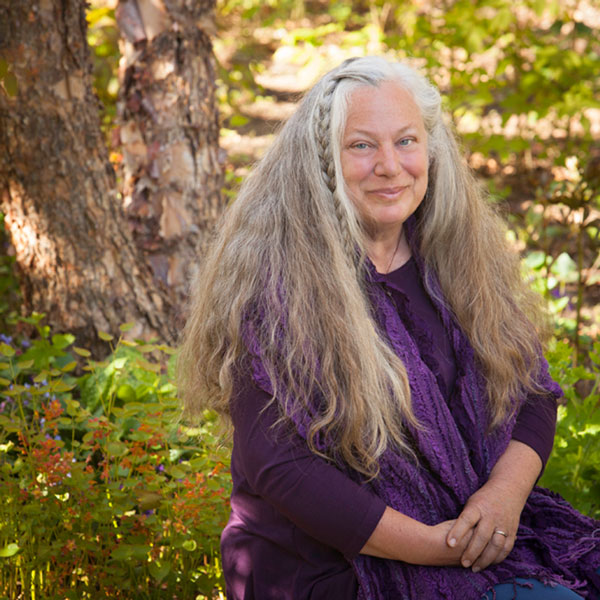 BIG ISLAND: Learn to make Herbal Aphrodisiacs and Lovers Lubes in Captain Cook
Come join Master Herbalist Margi Flint and I as we teach you how to make natural and delightful products for lovers in this fabulous one day class!
There are excellent natural ways to increase pleasure and deepen emotional connection with your lover. Join us as we explore the bountiful world of natural remedies and erotic lubricants.
Friday, March 17, 2017 • 10 am – 4 pm • $99
To register email SacredRiversOfLove@gmail.com or text 808-937-4218
••••••••••••••••••••••••••••••••••••••••••••••••••••••••••••••••••••••••••••••••••••••••••••••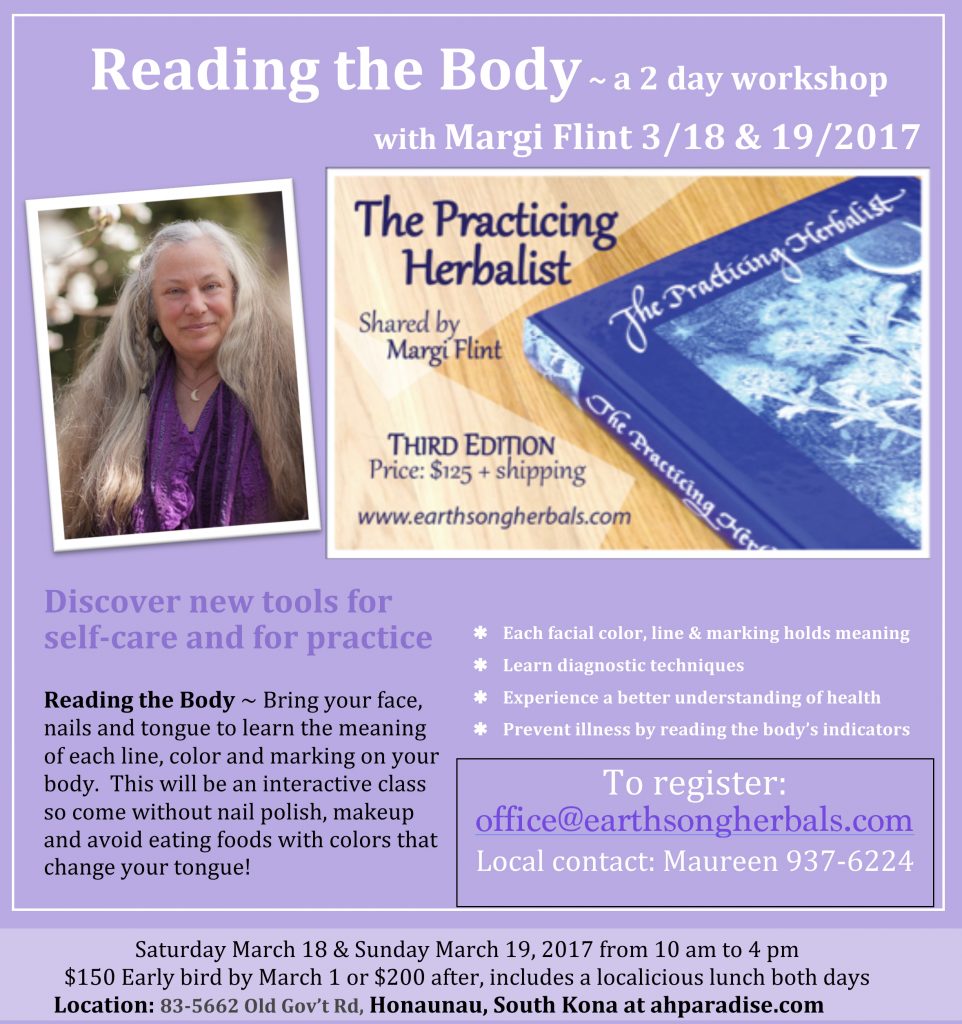 READING THE BODY – CAPTAIN COOK, HAWAII
Margi FlintMarch 18th and 19th 2017Aaahhh…. Paradise! B&B 83-5662 Rock Bottom Road Honaunau, HI 96726 $200 includes lunch
What do your thinning eyebrows mean? Why is there a crease in your earlobe? Each color, line and marking on the face, tongue and nails holds meaning of your internal health. Margi Flint will be explaining and demonstrating diagnostic techniques taught to her by the late William Le Sassier.
This two day seminar will focus on various diagnostic techniques including facial signs, tissue color, elimination analysis, signs of hot, cold, damp and dry conditions. In knowing what the body has to say, we can learn how to prevent illness before it arrives as well as treating what is here. This seminar will consist of both lecture and hands on learning with ample opportunity for questions to understand what your body is saying to you.
Please email for registration details by clicking the link below:Reserve classes for March 18th and 19th 2017
Reading the Body ~ Bring your face nails and tongue to learn the meaning of each line, color and marking on your body.  Herbs and foods will be mentioned as we cover each organ system.  This will be an interactive class so come without nail polish, makeup and avoid eating foods with colors that change your tongue!
"There is an amazing art to reading the health of a person through the features, lines and colors of the face, tongue and nails. This is helpful both for current health complaints but also for preventative measures. Margi is an expert in this field and will be joining us here in Captain Cook March 18-19 and in Bellingham WA the following weekend to teach on the subject. Come join us!" Leslie Lekos
Margi Flint owns and operates EarthSong Herbals, a busy family practice and herb school in Marblehead MA.  Flint is Adjunct Professor at Pacific Rim College BC, Tufts University School of Medicine, North Shore Community, Massachusetts College of Pharmacology, and Bastyr University.
••••••••••••••••••••••••••••••••••••••••••••••••••••••••••••••••••••••••••••••••••••••••••••••
Customized Plant Medicine & Chinese Diagnosis Apprenticeships
2 Year Apprenticeship (non-accredited)

$400 per month
In person, by phone and on Skype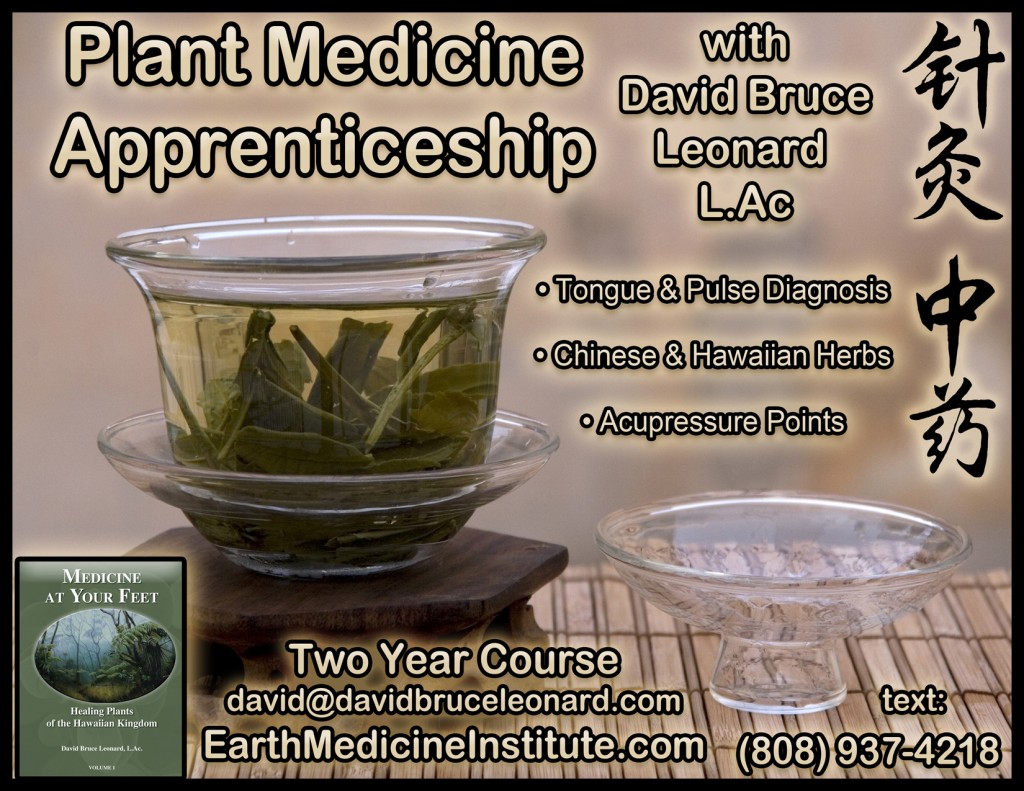 ••••••••••••••••••••••••••••••••••••••••••••••••••••••••••••••••••••••••••••••••••••••••••••••
Ongoing Certifications on All Islands

__________________________________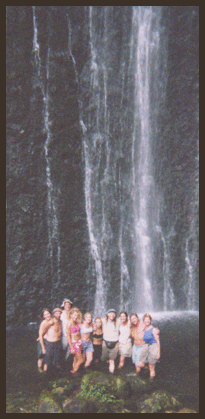 •••••••••••••••••••••••••••••••••••••••••••••••••••••••••••••••••••••••••••••••••••••••••••••••
•••••••••••••••••••••••••••••••••••••••••••••••••••••••••••••••••••••••••••••••••••••••••••••••
Save
Save
Save
Save
Save
Save
Save
Save
Save
Save
Save
Save
Save
Save
Save
Save
Save
Save
Save
Save
Save
Save
Save
Save
Save
Save
Save
Save
Save
Save
Save
Save
Save
Save
Save
Save
Save
Save
Save
Save
Save
Save
Save
Save
Save
Save
Save
Save
Save